Click on the circles to find out how the region's fund selectors are playing the latest developments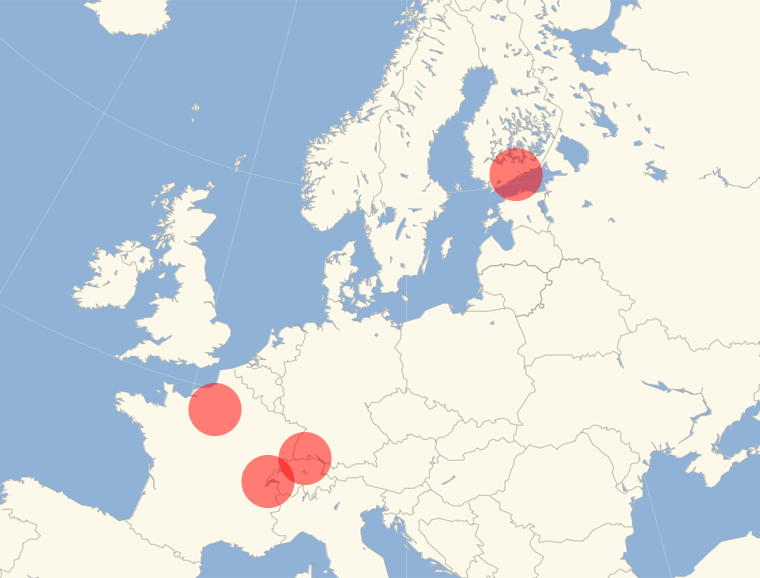 Images from Wikimedia Commons, Europe image by Dbachmann
How analysts are positioning their portfolios for European markets
The view from Helsinki
Image: Jonik
Veli-Pekka Puolakanaho, Aktia Invest
We look for actively managed long-only funds or funds with short extension, as absolute return equity funds are something we have ruled out. We maintain a recommendation list for European equities composed of core products accompanied by style/size satellites.
The bulk of the work to supplement our recommendation list with European value and growth satellites was completed between spring and autumn in 2012. At the time we concluded there were some interesting alpha generation opportunities in satellites and decided to put more effort into screening out the true gems from different styles.
With style satellites it is important to take a view on the degree of style tilt one wants and then be able to profile the researched funds to get an exact match. It's too early to say whether there has been a paradigm shift from growth to value. However, we have noticed the strong performance of value stocks since last autumn and are following the race between value and growth styles with care.
We want to make sure we have the best product offering there is regardless of the dominant style be it core, small-cap, growth, value or any other style. This year is full of promise for European equities and there are profits to be made across different styles. However, investors should be wary as there are many unresolved issues in European economy and also in other major global economies. Should there be macroeconomic shocks investor sentiment in Europe may deteriorate rapidly and then focus will shift back to defensive high quality names.

The view from Zurich
Image: Roland zh
Dalibor Kolcava, VZ
We favour two core European equity portfolios at the moment. Firstly, the Henderson HF Pan European fund run by Tim Stevenson. We met with Stevenson recently and discussed the direction of the fund and were happy with where he is taking it. The other major position we have is in Fidelity's FAST Europe fund. This is run by Anas Chakra and, along with the Henderson fund, forms our direct and core positions in terms of pan-European exposure. We do have some European exposure elsewhere but not necessarily through dedicated European equity funds.
For example, we hold some global dividend funds which tap the European market. Funds that fall into that bracket would be the DWS Top Dividende fund and the DJE Dividende & Substanz fund.
Marianne Rameau, ISGAM
We are investing with a view that the eurozone will not fall apart and we are using this basis to increase our allocation to European equities rather than reduce it. Going back to 2008, about half of our European equity exposure has been in long/short equity funds. This is through products such the Alken Fund – Absolute Return Europe strategy run by Nicholas Walewski. Over the past few years we have moved that a little bit more to long-only funds where we already had exposure and chose to increase our positions.
This would be in funds such as the Jupiter European Special Situations fund, run by Cedric de Fonclare, and the Jupiter JGF Europa fund, managed by Alexander Darwall. Another fund we have increased our weighting to is the Allianz European equity fund under Thorsten Winkelmann and Matthias Born. They are both good managers and respond quickly to questions about their positioning around events that could impact their positions. Further down the size structure, we also own Pascal Riégis' mid-cap focused Oddo Avenir Europe fund.

The view from Geneva
Image: Moumou82
Philippe Havlik, Probus
We are very satisfied with the Allianz European Equity Growth fund, run by Thorsten Winkelmann. The performance has been outstanding and we benefited from it in absolute and relative terms as we have been invested since the end of 2010. Its performance in 2010 and 2009 was very strong, 2008 was quite bumpy but the fund managed to rank above its benchmark and peers.
One question that has come up over time is whether to have an overweight to value or growth styles; if you look at historical data then you can see value-based strategies outperforming growth strategies over time. We still went with a growth overweight given the continuous momentum for that style and our confidence regarding the underlying securities. What is interesting is that now in 2013 an increasing number of investors are once again asking if it is the time to switch progressively to value-oriented funds. Admittedly we are starting to become more aware of this, and we are paying close attention to the opportunities in value, but we remain invested with growth at present.
In addition to the Allianz fund, we have the smaller Comgest Growth Europe fund, run by Arnaud Cosserat. Size is not the reason we selected it, rather it was to encourage to two to compete. Even with a larger fund, we think that the philosophy at the basis of Allianz's success remains valid, and we expect the fund to outperform further. The Comgest fund has achieved excellent results with very little turnover and has maintained many of the same stocks since we started to follow it. Its 2011 performance is remarkable.
Francois Savary, Reyl AM
We have made no real changes to our European equity exposure but we realise that quite a few people are still scared of what is going on. That is not without reason, there could be a correction because some of the core markets have been quick to come out of recession in 2013. The biggest political risk for us is in Europe at the moment. We have monitored the build-up to the Italian election since the start of the year. There is also a wider risk of recession in Germany. A lot depends on how deep the European market corrects, as we strongly predict that it will, but that could open the door for European equities as well.
We are mainly looking at the US and emerging market equities. However, that focus depends on what the US dollar does and if it weakens in the same way it did at the beginning of the year. We are not overweight equities as a whole as we believe people are too optimistic given the political risks and that is one of the reasons why we have not changed our allocation.

The view from Paris
Image: Tryfon Kar
Jean Baptiste Delabare, Financière Arbevel
I am pretty positive in the mid-to-long-term on the outlook for European equities. Over the last two years, we have seen expectations regarding the European macro reduced. We have moved to risk off and since the Spring of 2010 the market has considerably adjusted its forecasts for the region. Europe is still in a hole but we have finally stopped digging. That is what investors like to see.
When a correction or a change comes it is going to be an incremental adjustment, even if we enter a recession in 2013, as we did in 2012, or growth remains at zero, then that will be considered a positive. The European market is ex-growth at the moment, so we want to focus on sectors or themes that can grow despite the sluggish environment. We are not quite ready to buy the highly cyclical stock-focused funds but we are definitely looking at growth and those funds able to capture it.
There are three that stand out. First is the Janus Europe fund managed by Wahid Chamas. We like the fact that it is non-benchmark constrained and takes a fundamental approach to investing. It does not chase momentum or buy stocks simply because everyone else is.
Second up is the Norden fund from Lazard Freres Gestion. This invests primarily in Nordic companies and therefore provides exposure to big, multi-national companies which are benefiting from growth in the emerging markets. It allows us to tap oil services companies which are increasingly prominent in emerging markets.
Our final favourite is the Allianz German Equity fund, run by Matthias Born. We first invested here last year and enjoyed the market's rise over this period. If you look at the DAX, there are companies such as SAP that are leading their fields investors can benefit when they are growing well. In a sluggish environment I want to be invested in companies which provide better growth with high levels of visibility.