Click on the highlighted areas below to find out what the region's fund pickers are saying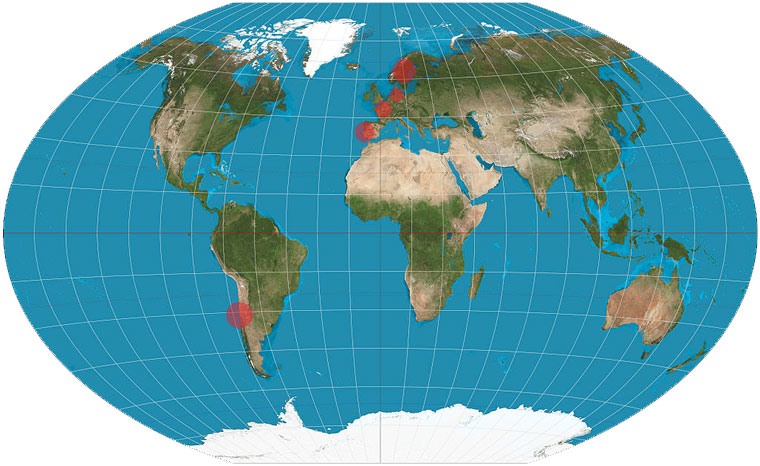 Globe image source: Creative Commons via Wikipedia, creator Strebe
How analysts are positioning their portfolios for emerging markets
The view from Portugal: Andreea Surdo, Banco BPI
We prefer boutiques that are specialised in this asset class and have a long-term view regarding their investment in these countries, even an activist attitude towards the companies they own in their portfolios.
We have a positive outlook for the emerging countries, regarding GDP growth and positive demographics, and this is why we prefer equities over bonds in our strategic allocation. Our exposure to emerging market debt is a rather tactical one, even though we recognise that in the fixed income universe this asset class is likely to perform well over the next three years.
In our portfolios, we invest in the First State Emerging Equities fund and recently bought into the HMG Globetrotter fund for its unique approach to investing in these countries. The fund has a preference for companies in developed countries which generate a high percentage of their revenue from developing economies. These businesses tend to have relatively high financial transparency and better corporate governance. Some investors consider this fund as global rather than emerging markets.
Our allocation to emerging equities has increased recently, due to our positive outlook on the asset class.

The view from Chile: Pablo Salcedo, Principal Asset Management
We believe in active management and look for strategically sound long-term portfolios. Our top-down decisions are made internally, and the result is typically regional selection, ie we decide on over or underweight positions for Emerging Asia, Emerging Europe and Latin America.
Security selection decisions are implemented through third party funds and for this we follow a rigorous fund selection process. Some of our portfolios are region-specific, and in those cases the emphasis is on fund selection.
Our outlook is positive. We certainly take into account some negative factors that are already well known: China will not grow at the high rates we have seen in the past, domestic demand in the emerging world is taking time to materialise.
However, structural forces are stronger than these factors. By that we mean that emerging economies have a long way to go in terms of growth, and as opposed to most of the past century, now the institutional and political base seems to be going in the right direction.
In the current global environment we would probably still favour EM bond funds. We believe their risk/return profile is very attractive for any global portfolio. In addition, with EM fixed income we can chose whether to buy funds in USD or local currency, and we value that additional degree of freedom.
Among the funds we invest in are the Pictet Emerging Hard Currency Debt, and Investec Emerging Markets Local Currency Debt.
In the past three months we have increased our exposure to EM equities. Towards the end of last year we thought most of the bad news was already reflected in valuations and given good fundamentals and our long-term view, we thought a marginally higher exposure was justified.

The view from Sweden: Peter Ahl, Mobilis Kapital
Strategically there are of course many fundamental reasons to have some of your money invested in emerging markets. Lower company valuations and better earnings prospects than developed markets will support equities together with improving macro data and easy access to liquidity through loose monetary policy.
We believe EM stocks will generate good absolute and relative returns over the coming three years as the global economy slowly recovers. Risk appetite is likely to increase now there appear to be fewer tail risks concerning the eurozone debt crisis and the US fiscal cliff. These factors combined with diminishing returns from bonds should boost emerging market stocks.
Tactically we look at emerging market equities as a beta provider when the investment environment is in a risk-on mode. We are therefore close to our maximum weighting in this asset class across all of our mandates.
We think emerging markets is a good environment for active fund managers with research capabilities to outperform vs passive funds, and have been invested for some years with Aberdeen and their Global Emerging Markets fund and Global Emerging Markets Smaller Companies fund, which have provided very good returns.

The view from France: Bernard Aybran, Invesco Multi-Manager
When it comes to investing in emerging assets, the usual equity/fixed income split might need some kind of re-assessment.
For a European investor, it's likely the risk-on/risk-off border may be better defined by the currency exposure than by the stocks/bonds divide. Local currency debt brings many risk-on features, while external debt would better suit a risk-off strategy.
After years of compression, emerging local currency debt still brings one of the highest yields available to global investors, which is a precious and uncommon feature these days. External debt now enjoys structural inflows that, alongside mostly improving fundamentals, keep the market well bid.
Though overvaluations exist, emerging stocks are, on average, most reasonably priced and offer some interesting opportunities.
We predominantly gain exposure to emerging assets through ETFs, whether global, regional or country specific. However, this cheap investment vehicle comes with a few caveats. In particular, the bid-offer spreads can be an issue, in particular if the trading takes place when the underlying market is closed.
The main changes to our emerging allocations during the last quarter of 2012 have been increasing the Chinese stocks, mostly at the expense of our local currency debt exposure.

The view from the Netherlands: Rico Bosma, Wealth Management Partners
Recently we took some profit on global high yield via the Pimco Global High Yield fund. After the huge rally in this asset class we think the yields are now too low.
We have re-allocated the proceeds from global high yield into emerging market equities and added to the funds we already owned. This is because we have a positive view on emerging markets over the next few years which look relatively cheap compared with developed equity.
Yields in emerging market bonds have come down a lot and we favour equity over bonds.
Due to expected currency appreciation we still have an allocation to the Franklin Templeton Emerging Market Bond fund run by Michael Hasenstab.
When it comes to equity we're not smart enough to make regional calls in emerging markets. That's why we have decided to buy one Asia ex Japan manager and two global emerging market managers.
In Asia we favour Franklin Templeton's Asia Growth fund run by Mark Mobius. He had a difficult year last year, mainly because of an energy bet, but we are sticking with him.
It is very difficult for active managers to outperform on a consistent basis in global emerging equities. For this reason we have two allocations, one active and one passive. On the active side we own the JP Morgan Emerging Markets Opportunities fund managed by Richard Titherington and Amit Mehta.
The passive allocation is in the BlackRock Emerging Market Index fund. We had the possibility to buy this fund as an early investor and got very low, bond like, fees.