Sector stalwarts
The Japan equity sector is packed with investment veterans. Of the 83 fund managers we track in this sector in the Hong Kong and Singapore markets, 22 have more than 10 years' experience, and 55 have more than five years' experience. Only 17 managers have less than three years' experience.
Leading the way is Albert Abehsera at Union Bancaire Privée, who has more than 30 years' experience in the sector. Swiss & Global Asset Management's Ernst Glanzmann is ranked second, with 22 years under his belt. He is closely followed by Paul Chesson from Invesco, who has been working in the sector for 18 years.
Risk / Reward
Forty-three managers have seven-year risk-adjusted track records in the sector. Most managers' three-year performance is positively correlated with their seven-year performance. However, there are some managers whose short-term performance significantly deviates from their long-term performance, including Polar Capital duo James Salter and Gerard Cawley, and Shoichi Mizusawa and Nicholas Weindling of J.P. Morgan.
Eastspring's Japanese equity veteran, Dean Cashman, has the best seven-year risked performance with a performance of 0.72*. In terms of his three-year risk-adjusted performance, Cashman is also ranked first out of 77 managers.
Neil Edwards and Stephen Harker, the duo at hedge fund group GLG Partners, have a seven-year risk-adjusted performance of 0.47.
The duo at Polar Capital, Salter and Cawley, are ranked ninth out of 43 managers, with a seven-year risk-adjusted performance of 0.46.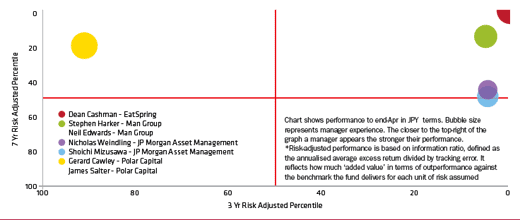 The long & The short
During the three years to the end of March 2015, all the managers featured here have returned more than 50% to their investors.
The top-performing manager is Nicholas Price at Fidelity Worldwide Investments, the manager of the Fidelity Funds – Japan Aggressive I-ACC-JPY fund, who has delivered 157.7% over the three-year timeframe and 43.22% over the past year in yen terms.
Cashman from Eastspring has returned 139.25% over three years and 47.21% over the past year.
He is followed closely by Mizusawa and Weindling at J.P. Morgan, who have recorded a 138.87% rise with their JPMorgan Japan (Yen) Acc JPY strategy over the past three years. They have posted returns of 53.02% in the past 12 months.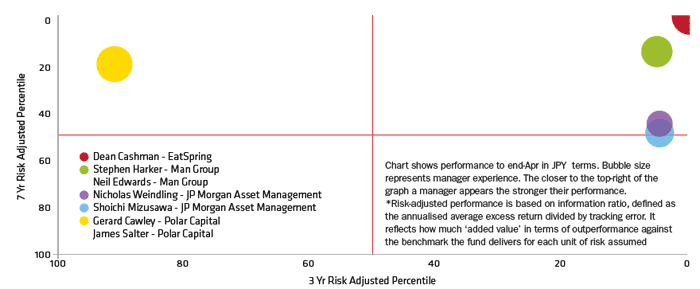 This article originally appeared in the June issue of Citywire Asia magazine.