Sector stalwarts
In Asia, we track 44 fund managers in the Equity Greater China sector. Two managers have more than two decades' experience, and six have a track record of more than 10 years.
Cheng-Hye Cheah, chairman at Hong Kong based group Value Partners, has 22 years' experience in investing in Greater China stocks.
Emerging markets veteran Mark Mobius at Franklin Templeton is ranked second, with 20 years and nine months' experience.
Next is Hugh Young at Aberdeen Asset Management, who has been managing money in Chinese equity over 17 years.
Risk / Reward
In total there are 17 managers who have more than seven years' risk-adjusted performance history in this sector.
Value Partner's Cheng-Hye Cheah has the best seven-year risk-adjusted performance of 0.38, as well as having a strong three-year track record of 0.17. Hong Kong-based Bin Shi at UBS Global Asset Management has an impressive three-year risk-adjusted performance of 0.5 and a seven-year performance of 0.19, based on his NN (L) Greater China Eqty P Cap USD and UBS (Lux) Eq Fd - Greater China (USD) P-acc strategies.
Samfon Rattiwat at CCB International, a Hong Kong-based investment manager, has delivered excellent risk-adjusted performance of 0.57 over the past three years, while his seven-year performance is less good at -1.28.
Click on the image to enlarge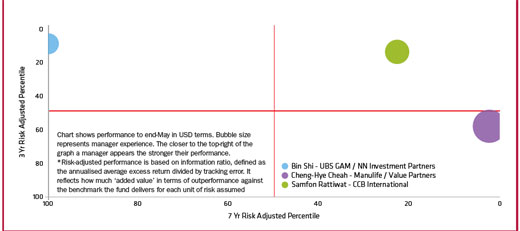 The long & The short
The Chinese stock market has delivered attractive returns to its investors recently. Zhi-Hua Wang from another Hong Kong-based boutique house, CSOP Asset Management, has delivered robust returns of 129.10% over the past three years and 49.10% over the past year in US dollar terms through his China SDD-China New Balance Opportunity fund.
Hot on his heels is CCB International's Samfon Rattiwat, who has returned 122.57% over the past three years and 37.05% over the past 12 months.
Frank Yao at Neuberger Berman has returned 86.72% over three years and 51.78% in the past year, which tops the rankings over one year.
Click on the image to enlarge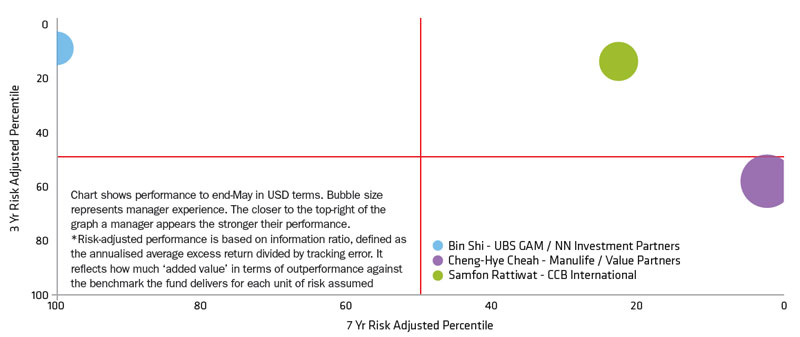 This article originally appeared on the July issue of Citywire Asia